Products
Below are just a few of the products that we carry in the shop.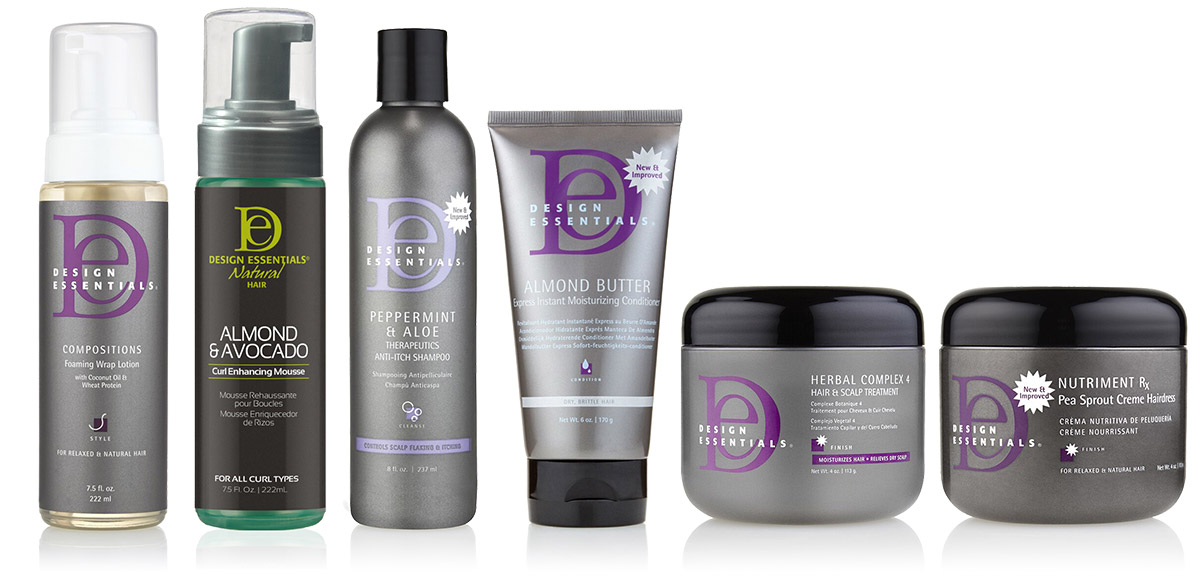 Peppermint & Aloe Therapeutics Anti-Itch Shampoo
Our Design Essentials® Peppermint & Aloe Therapeutics Anti-Itch Shampoo, made with Pyrithione Zinc, is a gentle cleansing, anti-itch shampoo that helps alleviate dryness, itching, and flaking caused by common scalp conditions such as Dandruff and Seborrheic Dermatitis. Our Peppermint & Aloe Therapeutics Anti-Itch Shampoo was strategically infused with three key ingredients to provide lasting benefits: Pyrithione Zinc – reduces and controls flaking caused by scalp conditions. Aloe – calms, nourishes and soothes the scalp. Last, Peppermint – an aroma-therapeutic scent invigorates and calms the senses, while simultaneously treating the scalp. The perfect trio of nourishing ingredients. If you've tried other therapeutic cleansing formulas and haven't found a product that restores moisture balance to the scalp and hair while providing an instant "cooling sensation," we recommend you try Design Essentials #1 anti-itch shampoo for immediate relief after just one use!
Almond & Avocado Curl Enhancing Mousse
Design Essentials® Natural Almond & Avocado Curl Enhancing Mousse! This formula has been enhanced with Sweet Almond Oil and Avocado extracts for even more long lasting moisture and shine. Our Curl Enhancing Mousse is strategically infused with Olive Oil and Vitamin B Complex to define, polish, and seal every strand for long-lasting styles. Olive Oil provides curl quenching moisture and allows luminous shine to enhance every strand, while Vitamin B Complex increases your hairs strength and elasticity to promote healthy hair growth. This formula is essential for waves, curls, and coily textures seeking no frizz, no sticky reside, and no crunch during natural styling!
Provides curl defining memory with soft-pliable hold
Dries quickly and reduces frizz
Delivers a gorgeous natural sheen
Almond Butter Express Instant Moisturizing Conditioner
Design Essentials® Almond Butter Express Instant Moisturizing Conditioner is a lightweight blend of botanical emollients and moisturizers that provides instant penetration and nourishment to the hair while sealing the cuticle and locking in added moisture for enhanced manageability, added body and shine. Enriched with nourishing Almond Butter which instantly softens and detangles, our Almond Butter Express is a multi-use, multi-benefit conditioner that quickly delivers intense moisture for weightless, silky, smooth hair. A conditioner that is not only known to add natural shine without the weight, or causing product build-up, makes it perfect for daily or weekly use when hair calls for moisture.
Seals cuticle and locks in moisture
Enhances manageability, while adding body and shine
Can be used daily or weekly on all hair types
Herbal Complex 4 Hair & Scalp Treatment
Design Essentials® Herbal Complex 4 Hair & Scalp Treatment is a lightweight compound of four essential herbs – Black Indian Hemp, Ginseng, Horsetail and Rosemary, used to moisturize the hair and alleviate dry scalp. Also, infused with Mink Oil and Jojoba Oil, Herbal Complex 4 proves to moisturize the scalp to lessen dryness and itching due to dry scalp, while leaving hair bouncy and silky with a luminous healthy shine. Not only can Design Essentials Herbal Complex 4 be used as a scalp treatment, but due to its lightweight, non-greasy formula, don''t hesitate to use it to protect your strands from thermal styling tools.
Mink Oil and Jojoba Oil helps to maintain scalp moisture
Lightweight formula- great for multiple styling needs
Excellent thermal protectant
Leaves hair bouncy and silky
Delivers a luminous healthy shine
Ideal for daily use
Compositions Foaming Wrap Lotion
Design Essentials® Compositions Foaming Wrap Lotion is strategically infused with two key ingredients, Coconut Oil and Wheat Protein, making you fall in love with its ability to moisturize, nourish and strengthen stressed fragile hair during wet-styling! Perfect for natural or relaxed hair to create smooth wraps, wet-sets, and molds without frizz and flaking. Our Compositions Foaming Wrap Lotion should be your absolute go-to product for a flawless smooth wrap, roller-wrap, roller-set, or flexi-rod set hands down! This non-sticky, lightweight wrap lotion has a medium-pliable hold, dries quickly, detangles on contact, and will leave your mane feeling silky and healthy with an intense vibrant shine.
Nutriment Rx Pea Sprout Creme Hairdress
Design Essentials® New and Improved NUTRIMENT Rx Pea Spout Crème Hairdress is a lightweight daily moisturizer enriched with essential vitamins and Pea Sprout used to lubricate the hair and scalp to eliminate dryness and restore moisture balance to stimulate hair growth. Great for revitalizing hair that has been weakened by chemical or thermal styling.